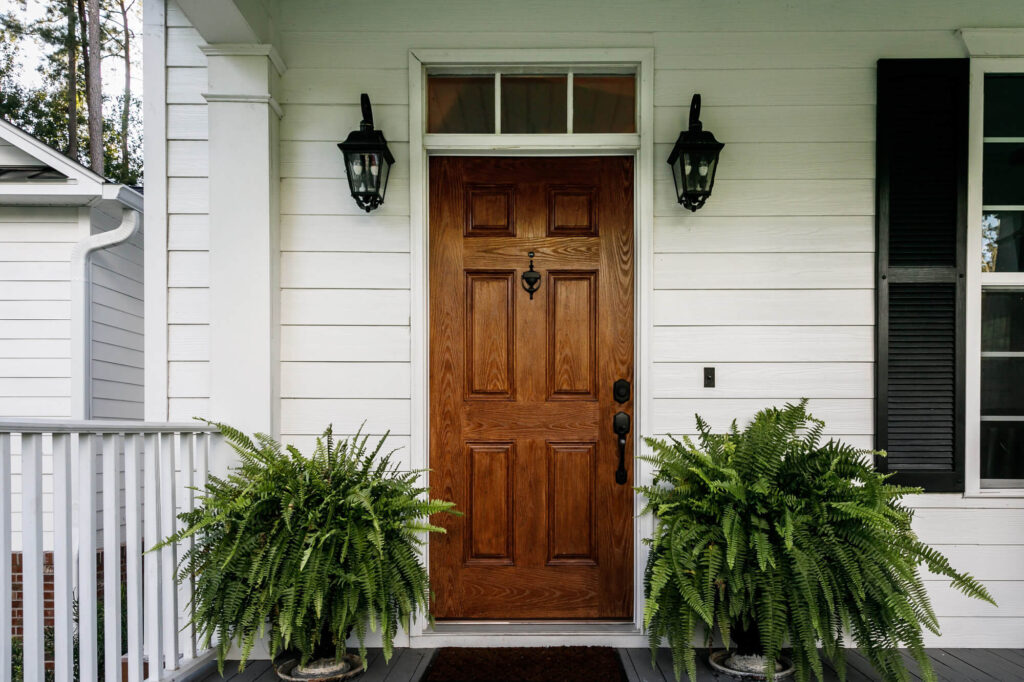 Picture this: You are already late to work and once you finally step out of the house and close the front door, it breaks making it impossible to lock. You don't want to leave your home unlocked, so what do you do?
Most would panic call the first locksmith they see online and get overcharged because they need to get this handled right away, but there are ways to prevent this scenario from coming true.
Making time to find a reliable locksmith before door repair is needed in an emergency can save you a lot of money. Scrambling at the last minute to find a locksmith could lead you to choose one that overcharges and does not get the job done well.
Locksmith scammers are known to target owners when they are at their most vulnerable because they often don't have another option within the period to get what they need unlocked.
How can you find the right company who are experts in door repair and installation? Here are a few tips for finding a reliable specialist for your door repair needs:
Find a Place That Specializes in Many Things
When needing a door repair or installation, you should call a locksmith. Locksmiths often dabble in many different areas and prove their expertise.
A company with multiple areas of expertise can be your go-to for any type of emergency you are dealing with. It's important that the locksmith you choose for your door repair can work with a wide variety of lock systems such as deadbolt, keyless entry, master key systems, panic bars, and fobs. This is to ensure that they have the tools and qualifications to help you no matter what your needs are.
It is also important to use a company that can work with commercial properties, residential properties, and automotive so that the needs of your business, home, and your vehicle can be taken care of with one phone call.
Look for a Local Locksmith
The best way to look for a trustworthy locksmith is to call and research them in advance. When calling, ask them a lot of detailed questions and be on the lookout for their reviews.
Locksmiths that answer calls with generic phrases rather than a specific name are ones to look out for. If the locksmith you are contacting will not or cannot provide you with the legal name of the business, find a different locksmith.
When a locksmith uses an 800 number instead of a local phone number, it is often a sign that you are dealing with a business that is not local and is looking to benefit from the money only.
A local locksmith is an important place to start for door installation and a reliable door repairman. These local companies are usually in it for the business and the people rather than to overcharge and only make a profit off of someone's emergency.
Always check out your lock locksmiths first for any type of door repair you need!
Check Locksmith ID and Licensure
If you are unfamiliar with the locksmith that you have called, it is important to ask for identifications, including a locksmith license in certain areas, when the locksmith arrives.
Not all states require a locksmith licensing, making it a crime to advertise or work as a locksmith without the proper paperwork. Look out for locksmiths who claimed that they are licensed when they practice in a state that does not require a license.
The 15 states that do require these credentials are Alabama, California, Connecticut, Illinois, Louisiana, Maryland, Nebraska, New Jersey, Nevada, North Carolina, Oklahoma, Oregon, Tennessee, Texas, and Virginia.
A sign of a legitimate locksmith is that they will ask you for your identification to ensure that they are unlocking a home, business, or vehicle that belongs to you. Those that show up in an unmarked vehicle or are advertising a different business name than the company you called, should be used with caution.
Legitimate companies will not hesitate to provide you with a state government-issued security employee license when asked. Also, most reputable companies will list their Master Security License numbers on their website, advertisements, etc.
Ask for a Door Repair Estimate
Many call center locksmiths will have their prices low to start. They do this to bait in the customers and then switch and up the prices, once the locksmith arrives. They claim the job is more complicated than they thought before and therefore will cost more.
The fee for the locksmith not only pays for them to come to your home or place of business to do the job that you need, but the fee also pays for tools, any licensing costs, continued training and transportation.
Always get an estimate before any work begins, including work that may be an emergency. Don't hire a door repairman that refuses to provide you with an estimate first.
Prices will vary depending on the specific task at hand, but the company should be able to make you fully aware of the cost before they begin repairing.
It is always advised to invest in the quality of a company. One that is fully licensed, bonded and insured so the work is backed by warranties and the standards of the industry.
Qualified professionals will get the job done the correct way the first time. Their experience in the field will also allow them to get the job done faster than someone who lacks the proper training. A quality company will have you saving money in the long run and give you peace of mind.
Locksmith companies can be known for scamming you for a higher price, but there are companies out there who can offer upfront pricing, and give you a correct estimate of all of the fees.
Ask About Additional Charges
Additional charges can come from emergency hours, mileage or service call minimums before you even agree to have the work done.
Scammers might claim that the lock on your door or car is obsolete and needs to be replaced, costing you extra hundreds of dollars. In reality, the lock is usually cheap and offers little protection.
A locksmith who cannot answer your door repair questions is one you should just hang up the phone on. This is a sign that they are not professional and do not know what they are doing. Instead, they just plan to overcharge you for the cheap and low-quality service that they provide.
Watch out for Fluctuating Bids
The price of a fixed door should be on the site and should match the phone estimate. If the two don't match, don't allow the work to be performed.
Locksmiths may demand payment after doing bad work and overcharging. They may even threaten to call the police or file a lawsuit if you do not comply. If this happens to you, call their bluff.
A reputable company will never drastically change the quoted price. Let the scammers call the police or even offer to call for them.
The people who make these threats usually have a lot to lose because they do not comply with the law when they are under operation. Their actions are not ethical because they are just looking for a payday.
Look for a Company With Fast Response Times
In an emergency, it is important to have a reliable company that can be there for you as soon as possible. There are locksmiths available for door repair 24/7 and 365 days a year whether in the rain or shine.
You don't have to wait all day or night long to get your emergency handled.
No matter where you are and when you need help, you should be able to rely on a professional company to help you with your door installation and door repair. A fix for your door doesn't have to take away all of your time.
Don't Let a Locksmith Drill Your Lock
If you require a door repairman because your lock is broken, do not let them repair the door with a drill. Be wary of those who will recommend or try to insists on drilling or replacing the lock.
Typically, drilling is only needed to open locks that are of high-security. If your locksmith is an expert on door repair, they will already possess the necessary skills and have the tools to unlock almost any door.
High-security locks are made to stop people from trying to get your door open with a pick and require a specialized key cut to get it open. It is important to know which type of lock you have for your home, vehicle, or business so that the locksmith cannot scam you into something you do not need.
When Should I Call a Door Repairman?
Now that you know what to look for when finding the right door repair and installation company for you, it is important to know when it is time to call your trusted door repairman.
If the doors in your home, business, or automobile are not working correctly, that's probably a sign that you should reach out to the door specialist of your choosing.
Although doors seem simple, there are multiple ways a door can get damaged or need a repair. These reasons could include a door sticking, the locks on the doorstop turning, the key getting stuck, glass inserts or other panels cracking, and wood around the frame cracking or splitting.
Finding a door repair service is easy, and many sites allow you to find one just by putting in your zip code.
Questions to Ask a Door Repairman Before Hiring
Before hiring a locksmith company to repair your door, it is important to ask them certain questions.
Where are you located?
How will you get into the house/vehicle/business?
Can you tell me the exact process?
Do you need a picture of the door?
Do you need a picture of the lock?
Will you be using a drill on the door?
Can you give me an estimate?
What factors will cause the price to change?
Do you have any additional fees? What are they?
What payment types do you require, cash, check or credit card?
What is the name of the door repairman that will be coming?
If they refuse or cannot answer these questions with detailed answers, do not hire them.
Benefits of Professional Door Installation and Repair
There are many benefits of having a professional door installation done by an expert door repairman. The first being those who are professional will get the job done well which will provide you will a feeling of safety and peace of mind. Not only that, but it will mean the job will only need to be done once because it was done right the first time.
Getting things done right the first time will save you money in the long run. Doors that have been improperly installed can raise heating and cooling costs, so having a proper door installation will save you money in that aspect as well.
Improper door installation could cause the door not to be sealed correctly, leading to a gap between the ground and the outside of the door where air can escape or enter the home or business.
Find Your Perfect Door Repairman Today!
Whether for your home, business, or car, things happen and an emergency door repair by a locksmith should not be a hassle. There is no need to be late for work or miss that very important meeting when emergencies happen.
Request service for your door repair needs today!