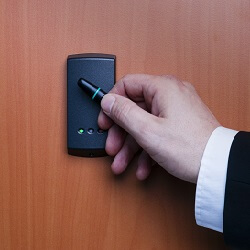 Access Control Systems
Keyless entry lock installation and repair for commercial and residential customers is at your fingertips. This setup is one that uses a keypad or electronic locks as a replacement for traditional methods of entry. They use a unique combination of numbers and symbols as a locking mechanism, contrary to the conventional cylinder system. In short… You have the ability to change the code by following a simple set of instructions; moreover, these locks can be installed on any door.
Installation and Repair
Our experts can correct malfunctions in your company's access control systems, or install or upgrade one of these high-tech electronic lock solutions for you.
Our Maintenance Standards
Access control systems restrict entry to designated areas or rooms to certain authorized people who possess the correct credentials. Designated users may need to input a code in a keypad, use a biometric fingerprint , or use a fob or keycard to inform the system of their identity before a door will open to allow entrance. We can schedule a visit at any time so just give us a call.