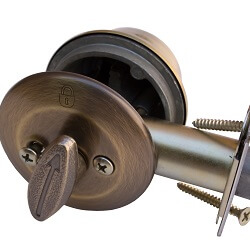 Deadbolt Locks
Deadbolt locks are a great security feature for homeowners and businesses. We should know cause we've been installing and repairing them for almost a decade.
The Benefits:
A deadbolt lock has a steel bolt that goes into a strike plate on the door frame when locked. It is imperative that it be installed correctly for it to offer maximum security.
But that's just part of the story…
Our high-tech equipment is cutting edge and our technicians have up-to-date knowledge on the latest techniques. You can rest assured that our skilled experts will install your new lock correctly and fix any issues with your current one.
We have a great reputation for quality work and we maintain that reputation by providing affordable, excellent solutions. Call us 24/7 for more information or to schedule an appointment.